You don't have to suffer with the symptoms of SIBO & IBS any longer.
If you're dealing with pain, bloating, gas, diarrhea, and constipation you need these symptom relief tips & tricks that work FAST.
Don't spend another minute suffering when there are natural supplements and easy tips you can do right now to feel better. This is not hype. This is real and immediately useful information for you.
Learn from Dr. Allison Siebecker (the brains behind the most successful SIBO Diet) and real SIBO patient Shivan Sarna how you can use simple tools, suggestions, and supplements in the free SIBO Relief Cheatsheet & Video Training.
Just tell us where to send the SIBO Relief Guide & Video to help you: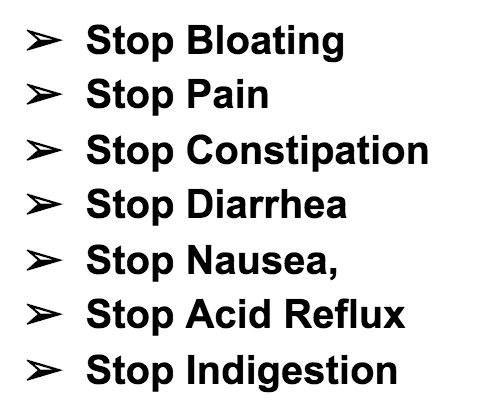 ...And Start To Feel GOOD Again.
Life is too short to feel bad all the time!
The information in the SIBO Relief Guide & Video is the very best tips & proven treatments for SIBO & IBS symptoms from one of the very best SIBO doctors in the country.
Few people in the world have more experience dealing with complicated SIBO cases than Dr. Allison Siebecker. She's helped thousands of people transform their lives and stop SIBO symptoms.  (She is also a patient herself.)
Dr. Siebecker uses natural approach whenever possible (but isn't afraid to use traditional methods when necessary) and is sharing all her best tips with you in this free SIBO Relief Guide & Video Training. Most importantly these methods work to give you relief fast. 
If you eat the wrong food by mistake or even if you "cheat" and eat something you shouldn't, there's no need to suffer. Don't let SIBO take all the joy out of life and keep you stuck on the couch or in the bathroom.
Get back to living life to the fullest. We'll show you how.
Dr. Allison Siebecker, ND, MSOM, LAc
Dr. Allison Siebecker is a thought leader, innovator, researcher, patient advocate and practitioner educator in the field of Small Intestine Bacterial Overgrowth (SIBO) and Irritable Bowel Syndrome (IBS). In clinical practice as a Naturopathic Physician since 2006, Dr. Siebecker has specialized in SIBO since 2010 with an emphasis on bringing alternative and conventional practitioners and treatments together.
Her experience includes co-founding and acting as the Medical Director of the SIBO Center for Digestive Health at the National University of Natural Medicine (NUNM). She holds faculty positions at NUNM, where she teaches Advanced Gastroenterology, and the GI Health Foundation, where she serves as the only Naturopathic Physician on the all gastroenterologist IBS Board. In 2014, she co-founded the SIBO Symposium conference for SIBO education among physicians.
Dr. Siebecker is equally dedicated to educating SIBO patients as well as physicians. In 2011, she founded the free educational website, the premiere online resource for both patients and practitioners. In 2016 she co-created the online SIBO SOS™ Summits I & II as an educational resource for SIBO patients. These free summits were attended by over 40,000 people from over 60 countries.
Called the "Queen of SIBO," her integrative curriculum and protocols have been instrumental in modern SIBO treatment globally: her SIBO Specific Food Guide and Homemade Elemental Diet are used by thousands of medical professionals and patients. 
Shivan Sarna, Executive Director of Chronic Conditions Rescue and Host of SIBO SOS™
Shivan Sarna has committed her life to helping others take excellent care of themselves. She has helped thousands both as a yoga instructor and studio owner, and in her 20-year career as a host for one of America's  top television networks.
But even after a lifetime of helping others get healthier, Shivan could never seem to get the root of her own health struggle - until she was finally diagnosed with SIBO.  Her diagnosis set her on a new journey - to understand the root causes of SIBO so it could be cured for her and the millions of others who were suffering in silence. Shivan created the popular SIBO SOS™ Speaker Series,  SIBO SOS™ Summit Series and founded Chronic Condition Rescue, LLC, to educate the world about cures and management for long-term health issues. She and her husband also founded Chronic Condition Research, LLC, a 501(c)3 nonprofit organization working to fund researchers to cure for SIBO and other debilitating health conditions.
Shivan's personal journey with SIBO changed her life. Now more than ever, she wants to give others the opportunity to experience what she created for herself — less suffering and a healthy future.
SIBO SOS™ does not provide medical advice, diagnosis or treatment. This Website and all content is for educational purposes only and is NOT intended to diagnose, treat, cure, or prevent any disease or psychological disorder. Always consult your physician or other qualified health care provider with your questions about any medical condition and before you start or begin using any diet, dietary supplement, herbal remedies or other health program. By using our website and participating in our summits, offers or trainings, you agree to our Privacy Policy, Terms and Conditions of Use & Disclaimers. SIBO SOS™ is a trademark of Chronic Condition Rescue, LLC and may not be used without prior approval by Chronic Condition Rescue, LLC.