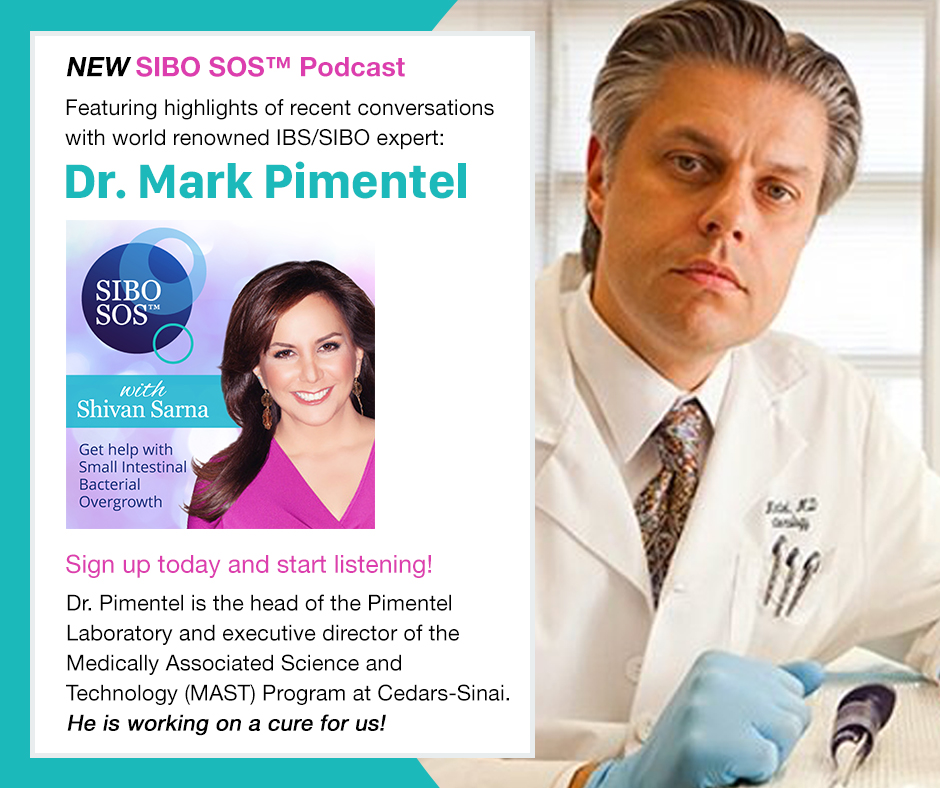 I'm so happy to announce the new SIBO SOS™ Podcast. I had an amazing conversation with Dr. Mark Pimentel, head of Pimentel Laboratory and the MAST Program at Cedars-Sinai yesterday. (He is working every day to find a cure for us.)
If you aren't on Facebook or missed the broadcast for whatever reason. I took that conversation and some highlights from other sessions I have had with him this year and put them into our first podcast. (It is so new it isn't even on iTunes yet, you really got the scoop by being part of the SIBO SOS™ Community).
I hope you also enjoy the transcript as a special goodie in celebration of this new project! (I took out the introduction and dove right into the content with the transcript to get you to the good stuff right away.) Sign up to have the files emailed to you. The next page that opens will give you access to download the transcript and audio files immediately too.
I hope you are inspired to take action after listening to Dr. Pimentel. I always feel so hopeful after speaking with him.
Big hugs,
Shivan
Get the transcript and audio recording now
We want to make sure you have this information. We will send you an email with all the details to listen to the audio and read the transcript immediately.
Unsubscribe at any time. Click unsubscribe at the bottom of any emails.
This Website and all content is for educational purposes only and is NOT intended to diagnose, treat, cure, or prevent any disease or psychological disorder. Always consult your physician or other qualified health care provider with your questions about any medical condition and before you start or begin using any diet, dietary supplement, herbal remedies or other health program. By using our website and participating in our summits, offers or trainings, you agree to our Privacy Policy, Terms and Conditions of Use & Disclaimers. SIBO SOS™ is a trademark of Chronic Condition Rescue, LLC and may not be used without prior approval by Chronic Condition Rescue, LLC. 

SIBO SOS™ does not provide medical advice, diagnosis or treatment.