Advanced
SIBO SOS™
Masterclass Extravaganza!

Learn & Get Answers
INSTANT ACCESS FOR
36  HOURS ONLY
STARTING 12:00 AM EST
NOVEMBER 11, 2018 
For SIBO Patients & Practitioners Who Want To
Learn Directly From SIBO Experts
Instant access to session notes, recordings, and transcripts!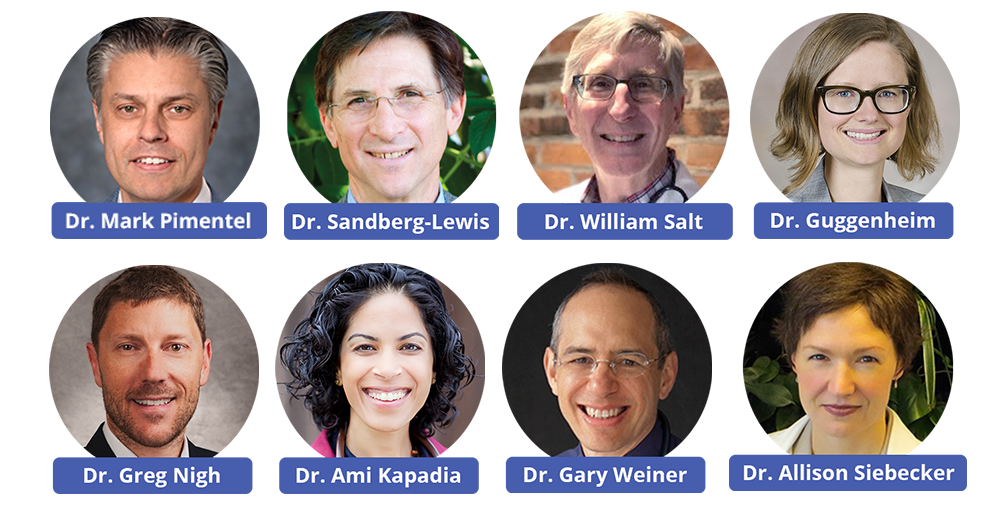 BONUS MASTERCLASSES included when you purchase! 
Enjoy these Video Sneak Peeks from each Masterclass...
Access any or all of our incredible 8 Masterclasses with Q&A for 36 hours - free! 
Begins Sunday, November 11, 2018 at 12:00 AM EST (2:00 PM AUS)
_________________________________________________________________
SIBO Research Updates on Hydrogen Sulfide, Methane and More 

Dr. Pimentel is one of the worlds leading SIBO researchers and doctors. Learn his latest discoveries from his research on Hydrogen Sulfide, SIBO and post-infectious IBS.


 What is the newest research on Hydrogen Sulfide, SIBO and post-infectious IBS

 The relationship between Hydrogen, Methane and Hydrogen Sulfide in SIBO patients

 Discover the latest update on Hydrogen Sulfide testing
We've been waiting to hear what he's been up to, and now you can hear it from him directly. His last SIBO SOS™ Masterclass sold out with rave reviews and we're thrilled to have him back.
_________________________________________________________________
 Prokinetics 101: What's in the Expert's Toolkit

Prokinetics are a very helpful class of medicine with both natural and pharmaceutical options, that many practitioners weren't trained in, and many patients aren't offered. While they are an essential (and often underutilized) part of SIBO treatment, did you know that prokinetics are used for many other diseases that affect digestion as well as symptomatic relief for multiple digestive symptoms such as acid reflux, nausea, bloating and constipation?  Join Dr. Siebecker, one of the top SIBO specialists in the world, as she shares how this underutilized class of drugs and formulas help relieve digestive symptoms.
Which diseases and symptoms can prokinetics help?
Get clear on what prokinetics ARE and what they're NOT. (If you think they're a laxative, you're not alone.)
How and why diarrhea patients can use prokinetics too.
Prokinetics weren't taught in school? We got you covered: mechanisms of action, safety, dosing, logistics.
Is there a best time of day to take a prokinetic? (the answer might surprise you)
What if prokinetics aren't covered by insurance or offered as part of treatment?
What about really stubborn cases – can we take more than one prokinetic at a time?
Got Mold?  How Mold-Related Illness & How it Impacts SIBO

Dr. Kapadia has an extensive protocol for dealing with the most difficult cases. She is a functional medicine practitioner and a specialist in environmental medicine. Her expertise in chronic conditions and mold exposure is invaluable. Patients with SIBO, other GI symptoms and autoimmune illnesses whose symptoms do not respond to typical protocols must consider the potential role of mold.
What are the signs of mold toxicity — and can it ever go away on its own?

Which mold tests are the most accurate (And why a more expensive one does NOT mean it's better)

Where are there hidden sources of mold in the house or car? That black stuff on the shower tile... is it making my SIBO worse?

What to do when your regular doc thinks you're crazy talking about mold and SIBO — which scientific studies to print out and take to your appointment
_________________________________________________________________
A Step-by-Step Approach for Finding Your Underlying Cause of SIBO

As an Integrative Gastroenterologist and educator for the past 40 years, Dr. William Salt's methodical approach to accurately diagnosing the root cause of digestive disorders including IBS, SIBO, Methane-Associated Constipation, Carbohydrate Maldigestion (FODMAPs), Sucrose Intolerance, Bile Acid Malabsorption (BAM), SIFO (small intestinal fungal overgrowth), Crohn's disease and Colitis.
Discover if your diagnosis is actually correct or if symptoms are actually caused by associated conditions like …. Celiac disease, Mast Cell Disorder/Histamine, Colitis, or GERD.
Real talk: What's going on in a normal vs. abnormal digestive system

What is the "triad of symptoms"

Why the term "diabetic enteropathy" needs to be part of your day-to-day vocabulary (if it isn't already)

How does the microbiome REALLY impact SIBO: the insider knowledge from an Integrative Gastroenterologist

Is your diagnosis actually keeping you from remission? Find out without taking a dozen new tests
 
_________________________________________________________________
 Hydrogen Sulfide and SIBO: ThePotential Cause of SIBO

In this Masterclass, Dr. Nigh reveals: What does it mean if you get a flatline on a SIBO breath test? Are you're in the clear? Or do you have a type of bacteria overgrowth that isn't yet detectable by today's SIBO tests? 

Dr. Nigh's view is that the overgrowth of hydrogen sulfide bacteria is the body's way of trying to compensate for something — but what?
Why are sulfur issues the "canary in the coal mine" and what are the red flags? (If you have brain fog, you MUST know about this)

Hydrogen and methane have been well-studied, but could hydrogen sulfide be the missing link we've all been waiting for?

How much do genetics play a role in dysfunctional sulfur pathways — and how can you hack your own biology for SIBO relief

Which common foods contain sulfur (besides the obvious ones)

Could glyphosate (a toxic herbicide that's the active ingredient in Roundup) be aggravating SIBO symptoms — and how to detox safely with what's in your cabinet right now

_________________________________________________________________
Joint Hypermobility Syndromes: An important underlying cause of recurrent SIBO

Is there such a thing as being too Flexible? Most people never heard about Ehler's Danlos Syndrome, but it could be causing a series of unusual symptoms, especially for people with SIBO. People who are super flexible may have this condition that causes organs to move around freely inside the body. Learn the risk factors that are common causes of SIBO — and the best treatment options that relieve symptoms fast.
Creeping headaches, hyper-flexibility, joints that stretch further than normal, and stretchy skin? Learn the warning signs of this connective tissue disorder

Can hypermobility joint disorders cause SIBO to develop?

What happens when an organ gets in the way of the flow of bacteria in the body

What's Dr. Guggenheim's super aggressive protocol that we LOVE — including when to ditch the alternative approach

What are the symptoms of joint hypermobility syndromes, including the musculoskeletal, gastrointestinal, nervous and cardiovascular systems?

What is the connection between mast cell activation syndrome, a type of immune cell dysfunction and joint hypermobility syndromes
_________________________________________________________________
 The Thyroid, MMC, SIBO Connection: What to Test and How to Treat it

It's shocking! Many experts are talking about the gut and SIBO, but most don't realize the connection between the thyroid and SIBO. This Masterclass is essential for anyone treating or dealing with SIBO, Hashimoto's, and hormone imbalance symptoms like fatigue, sensitivity to cold, depression, and impaired memory. For a good many SIBO patients, this is the big missing piece — and why prokinetics alone are often not enough.
Could fixing hormones imbalance solve digestion problems for good?

Are hormones ultimately the key player in proper digestion?

If you're not included in the 33% of SIBO patients who see immediate results with typical treatments, what else could be wrong?

Why typical thyroid tests given by Western Medicine doctors lead many people

under-treated, poorly-treated, and under-diagnosed

What is the shocking connection between the Migrating Motor Complex and the thyroid that no SIBO patient or practitioner can overlook?
_________________________________________________________________
 Digestive Disorders & SIBO Co-Conditions in Need of Management

Dr. Sandberg-Lewis is the grand master of Naturopathic Gastroenterology, practicing for 33 years and counting, and was the Gastroenterology teacher of Dr. Siebecker, Dr. Weiner and Dr. Guggenheim. Learn from a teacher's teacher on some of the least talked about reasons SIBO and other digestive disorders remain chronic.
What is the most dangerous and severe form of reflux that affects people with SIBO (that most physicians don't understand)

Why are the liver and pancreas 2 of the most overlooked organs — and how to maximize their efficiency for your health

Could SIBO cause diabetes… or the other way around? If you are pre-diabetic or overweight, this session's a MUST

How does gallbladder surgery affect SIBO? Learn why doctors are split down the middle about this common surgery performed on 750,000 Americans a year

Can PPIs cause SIBO? Dr. Sandberg-Lewis' perspective may totally shock you

What is Dr. Steven Sandberg-Lewis' secret weapon for SIBO (FASCINATING and no one else is talking about this!)

 
_________________________________________________________________
Lyme Disease & SIBO: Symptoms, Tests and Treatments

Are you suffering from SIBO that won't clear even with good treatment? Or, did you get rid of your SIBO only for it to come back despite pro-kinetic therapy? Learn about one of the main causes of difficult to treat SIBO, Lyme disease. Yes, that's correct. Lyme disease is extremely common. Well over 300,000 people a year are being diagnosed in the US alone!
The Lyme-SIBO masterclass is a MUST LISTEN TO class so you can learn if it is likely if you have Lyme disease, how to get properly tested for it and treat it. If you have Lyme disease, SIBO will not go away until you work on the Lyme disease and other co-existing factors. This is a rare opportunity to have access to Dr. Tom Messinger, a recognized expert in the field of Lyme disease. Listen to discover if this is the true underlying cause of many of your health complaints.
Can you have Lyme even if you never had a bullseye? (Or even a tick bite)
Which do you treat first — Lyme or SIBO?
Was it the flu… or was it really Lyme?
How to keep long-term damage from happening?
What's the fastest Lyme treatment (that will also majorly impact SIBO symptoms)
Can Lyme be sexually transmitted?
Are there natural ways to treat Lyme that work?
_________________________________________________________________
The Low-Sulfur Diet For SIBO Success

Maria Zilka has been a Nutrition Therapy Practitioner for ten years. She's also a certified GAPS practitioner. Maria specializes in customizing diets for all her patients with chronic diseases, and helping with their implementation. One of Maria's specialties is thorough patient education. Based in the Pacific northwest, Maria's unique and personalized approach to nutritional healing has made her one of the most sought after "food-as-medicine" professionals in the country.
In this Masterclass, Maria Zilka will cover:
The Metabolic Goal of the LSP (low sulfur protocol)

What to expect when your body is dumping sulfur

How to reintroduce foods and in what order
Why is this Masterclass Extravaganza different?
There's no need to travel to get life-changing insights from the best SIBO experts. This event has all the benefits of a health conference (yes, they are a thing and they are a huge help!), with none of the travel hassles or expenses. If your symptoms flare when you travel, this is a great opportunity this is to participate from the comfort of your home. (PLUS you don't have to worry about a cat/dog-sitter!)
During the free access window, watch your favorite SIBO experts share their best insights and advice on causes, protocols, tests, and more. 
And, if you decide to "take the plunge" and purchase the Masterclass Extravaganza recordings for only $99 (that's more than 50% savings!), you'll get THREE free bonus classes:
SIBO Breath Test Decoded with Gary Stapleton

Lyme Disease & SIBO: Symptoms, Tests and Treatments with Dr. Tom Messinger

SIBO Research Updates on Hydrogen Sulfide, Methane & More with Dr. Mark Pimentel
The Q&A portion is the best part. Get answers for those elusive SIBO mysteries you've been trying to crack. Rapid information exchange = rapid transformation!
 Are You On The Right Track?
Learn What Works From SIBO Experts 
For

less than the cost of one doctor appointment, get direct access to some of the most brilliant and experienced medical professionals in the field of SIBO 


Learn the latest research, best-practices, natural and conventional medicine for your next action steps to improve your health



Get concrete skills to make SIBO "not such a big deal" (

or go away completely)


How to manage SIBO as a chronic condition while you discover your underlying cause(s)

More than just breath tests! Learn which blood, stool, or other tests to take and when


Discover what else might be exacerbating SIBO: Mold? Ehler's Danlos Syndrome? Lyme Disease? Sulfur Issues? Genetics? Motility?


How to decode the lingo and become a "better" patient: SIBO, IBS, IBD, GERD, NERD, SIFO, WAR, MMC, PPI, etc...



How to maximize your results when coping with constipation, diarrhea, weight loss, weight gain, nausea and the all-time favorite, bloating
Experts at your Finger Tips
Practical, cutting-edge, up-to-date information on the most relevant and aggravating SIBO topics to give you the right skills to manage symptoms and causes. The classes are taught by top practitioners in the field. 
More About Who You'll Be Learning From
Learn from the best. Taught by an eclectic group of SIBO experts.
Dr. Mark Pimental, MD, FRCP(C)
Dr. Pimentel is Professor of Medicine, Executive Director, active researcher in numerous clinical studies, and he is published in the most esteemed medical journals. Dr. Pimentel has been invited to present his groundbreaking medical discoveries around the world.
Dr. Ami Kapadia, MD, ABIHM 
Dr. Kapadia combines holistic and functional medicine with traditional and complementary therapies. She has a special interest in digestive disorders, (IBS, GERD, etc.) and autoimmune disease — and the role of food allergy and environmental toxins in these conditions.
Dr. William B. Salt II, MD
A revolution in recognition, diagnosis, and treatment of IBS and SIBO is happening. Gastroenterologist, Dr. Salt is one of the few experts paving the way. He has over 40 years of clinical practice and teaching experience and has authored several books.
Dr. Greg Nigh, ND, LAc
Dr. Greg Nigh is a Naturopath with a Masters in Science and Oriental Medicine. Alongside his passion for researching and implementing alternative cancer therapies, he is a prolific author, researcher, and featured presenter at professional medical conferences around the country.  
Dr. Gary Weiner, ND, LAc
Transforming his own health through diet motivated Dr. Weiner to change from a successful career as writer and producer to a career in medicine. With over twenty years of clinical experience, Dr. Weiner writes and lectures frequently to professionals on IBD, SIBO, IBS, and the Elemental Diet.
Dr. Steven Sandberg-Lewis, ND, DHANP 
Dr. Steven Sandberg-Lewis has been a practicing naturopathic physician for forty years. For 33 years, he has been an advanced gastroenterology professor at one of the nation's top naturopathic schools, National University of Natural Medicine. Complex and unresolved GI conditions comprise his clinical focus.
Dr. Alena Guggenheim, ND
Dr. Guggenheim is a Naturopath who became the go-to provider for patients with complex symptoms in many systems. She noticed that many patients had undiagnosed hypermobile connective tissue diseases (Ehlers-Danlos Syndrome), which is now her passion.
Dr. Allison Siebecker, ND, LAc
"Queen of SIBO" Dr. Siebecker is a naturopathic physician, award-winning author, clinician and educator, whose integrative curriculum and protocols, along with her free educational website have been instrumental in modern Small Intestine Bacterial Overgrowth treatment globally.
Shivan Sarna, Host
Shivan's personal journey with SIBO changed her life. Now more than ever, she wants to give others the opportunity to experience what she created for herself — less suffering and a healthy future.
Dr. Tom Messinger, ND
Prior to becoming an ND, Dr. Messinger was a Registered Nurse for 23 years, spending most of his career working in inner-city Emergency Trauma Centers. Founder and Clinic Director of Portland Natural Medicine in Oregon, where he specializes in the diagnosis and treatment of tick-borne diseases, chronic infections, and digestive issues. He utilizes integrative medicine, herbs, diet, detoxification strategies, ozone therapy, neural therapy, homeopathy, and stress reduction techniques to help reduce toxin burden, strengthen vitality, and promote restoration of health.
Maria Zilka
Maria Zilka received her Nutrition Therapist certification in 2008 and has been working since that time in collaboration with Dr. Nigh, responsible for patient education and implementation of a wide range of therapeutic diets used with patients of Immersion Health. Maria is one of the most experienced and knowledgeable practitioners in the country regarding all aspects of the calorie restricted ketogenic diet and its implementation with cancer patients. In addition to that, Maria literally wrote the cookbook on implementation of the Low Sulfur Protocol that she and Dr. Nigh developed and have used to great success with hundreds of patients.
Gary Stapleton
Gary Stapleton draws from an extensive career in commercial healthcare. After many years in the healthcare arena, he launched Aerodiagnostics™ Lab, which provides the highest level of diagnostic accuracy and customer service for patients and clinicians. The only laboratory offering innovative and unique access to non-invasive hydrogen/methane breath testing. Gary is a true SIBO hero.
 Who are these Masterclasses for?
Patients who need SIBO relief now Some people with SIBO, IBS, and underlying conditions will be able to feel better faster than others. Why? It's because they've armed themselves with an education and learned what to do. 

Practitioners who want to go from "dabbling in SIBO treatment" to a SIBO pro. At the end of the series, you'll be able to better implement protocols and treatments for your SIBO and IBS patients, no matter what specialty you're in. Increase your confidence and ability to answer your patients' questions — and most importantly — your ability to help them. Get the foundation to offer them the best alternative and/or conventional treatments.   
Bonus when you purchase any Masterclass
$59 off the SIBO Recovery Roadmap™ Home Study Course

 
If you've ever wondered exactly which tests to take and when (for SIBO or otherwise), which treatment recommendations to follow, and what your very next step should be, this comprehensive course gives you the foundation for successful remission.
INCLUDED WHEN YOU PURCHASE ANY MASTERCLASS ABOVE!
Recap of What You Get


Instant Access to the notes, recordings, transcripts!
Unlimited Online Access Watch the masterclass recording
Get information and inspiration — from experts.
Full Written Transcripts
Love to skim or take notes? Transcripts make it easy to find what you need.
Useful Handouts and Additional Resources
Class notes, outlines, and other exclusive material so you get the most from each session.
Bonus $59 off the SIBO Recovery Roadmap™ Home Study Course
This comprehensive course gives you the foundation for successful remission.
This Website and all content is for educational purposes only and is NOT intended to diagnose, treat, cure, or prevent any disease or psychological disorder, not does it replace the 1-on-1 relationship with your primary care physician. Always consult your physician or other qualified healthcare provider with your questions about any medical condition and before you start or begin using any diet, dietary supplement, herbal remedies, or other health program. By using our website and participating in our summits, offers, or trainings, you agree to our Privacy Policy, Terms, Condition of Use, and Disclaimers.
SIBOSOS™ is a trademark of Chronic Condition Rescue, LLC and may not be used without prior approval by Chronic Condition Rescue, LLC. If you have any further questions or concerns, please email info@sibosos.com.